Good Reflexes Guide
We are very keen at the MAMC+ that your visit should take place in the best possible conditions. We would be grateful for you to adopt the following behaviour:  
I don't touch
I don't run
I store my back pack
I don't shout
I don't eat
I don't use my telephone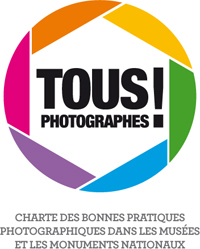 The MAMC+ has signed up to the charter "All photographers". 
It is based on 5 reciprocal undertakings between the establishments and visitors – photographers. The charter reconciles new forms of visiting, rules of civility in public spaces and the security of the works. It is part of an approach for the sharing and diffusion of cultural experiences. 
Article 1: flashes and accessories (telescopic arms) are not authorised in the rooms;
Article 2: the visitor ensures that no harm comes to the integrity of the works;
Article 3: sharing and diffusion, especially on internet sites and social networks is tolerated within the legal frameworks in force; 
Article 4: the visitor will avoid taking photographs of staff of the establishment as a principal identifiable subject, without their formal permission;
Article 5: any photographic activity requiring additional material is subject to a specific authorisation request.
---
Access to the Museum rooms is prohibited for animals with the exception of guide dogs; 
The establishment is placed under video surveillance with recording (Prefectural decree of 15th November 1999); 
The Security and Surveillance team of the Museum reserves the right to exclude visitors if these conditions are not met. We trust that with these measures the work of each and every one may be preserved while respecting the comfort of your visit.